Better Nutrition, Exercise & Wellness
for the Mind, Body & Soul.

---

IN THE NEWS TODAY



CDC Admits Ebola Could Be Airborne
According to the CDC Director Tom Frieden, the Ebola virus might be airborne. more



TODAY'S TOP PICKS



Indoor Rock Climbing
quickly becoming a Super Exercise that not only is a great workout but challenges the Brain as well! Get important Safety and training tips. more



---


Keep Your CORE Workouts during these cooler months. Don't wait until Swimsuit weather to Start thinking about getting your body looking amazing! more



---


Healthy food that can taste great and still work WITH your body instead of AGAINST it! Find out how to prepare the right nutrition for you... more



2015 Dallas Marathon Sunday, December 13. Register Now!

We've got your Personal Trainer Solutions...
more

Alter your training programs through the winter months...

APRIL 2018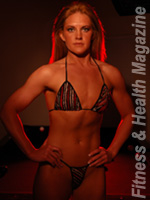 Fitness & Health Magazine offers strategies and tools that help men and women make little changes to achieve big results. With a "you-can-do-it" attitude, our workouts, health and beauty advice, nuitritional plans and success stories motivate readers to get strong in mind and body. The magazine is designed to give support to men and women to embrace fitness as a lifestyle and enable you to make better choices with Nutrition and Exercise and help conform your body and mind into a healthier one promoting longevity and wellness for life.
---
Join Our Newsletter
View Current Issue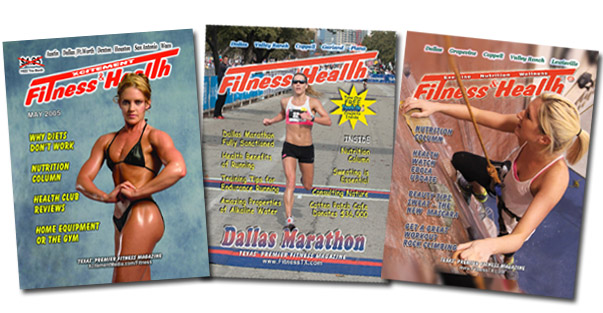 ---




OUR FOCUS
At Fitness & Health Magazine, we look at fitness and health with a whole approach. One full of eXcitement with good sound advice and positive thinking. We know that Anything CAN happen ... whether it will or not is all up to YOU. We are here to help keep you encouraged and motivated so that you DO succeed in what your goals are set for. We have teamed up with the best Nutritionists and Personal Trainers from around the Dallas/Ft. Worth/Denton Area and it is our goal to bring you the best REAL information that you should know... not just what a good marketing campaign can sell you. There is a wealth of knowledge to be learned and the better educated we are, the better choices we will make throughout our lives and the better lives we will lead. We would like to encourage all who can share genuine and sound knowledge with others in this fitness and health lifestyle to contact us anytime with authentic information as well as any questions that you may have. We may not know all the answers but we can surely steer you in the right direction to help find those answers. Feel free to contact us anytime at Fitness & Health Magazine.


VISITOR AGREEMENT
By visiting this site, you agree to the terms and conditions of our Visitor Agreement. Please Read our Privacy Policy.

All content on this site is the Intellectual Property of Fitness & Health Magazine and eXcitement Media Group, INC and is protected by copyright. Please read our Copyright Policy!




<!- a href="http://visitor.constantcontact.com/email.jsp?m=1101931238845&id" --><!- img src="images/signup_button.gif" BORDER="0" ALT="Click Here Now to Join Our FREE Monthly Newsletter!">
Medical Advice Notice
The information presented on this website is not intended as specific medical advice and is not a substitute for professional medical treatment or diagnosis. Read our Medical Advice Notice.

---

COVERAGE AREA
Dallas, Ft. Worth, Denton and the Surrounding Metroplex.


---